Implement new ideas is always a challenging task. The development department of Assion Electronic GmbH is able to solve this task. We always look forward to new challenges, to convert your ideas into practice.
Our know-how includes analog and digital circuits, LF, HF and UHF technology, microcontrollers, PC and metrology. We can design your circuit designs, circuit diagrams and layouts of the one-sided to multilayer printed circuit board. Techniques such as SMD, ball grid or burried / blind via can be used.
Also, all necessary tests and approvals of developed devices are part of our offer, so you can directly take your new product into the market.
Of course, we can also make the PCB layout of your existing circuits if, for example, mechanical changes result in the layout or should changed from through hole assembly to SMD.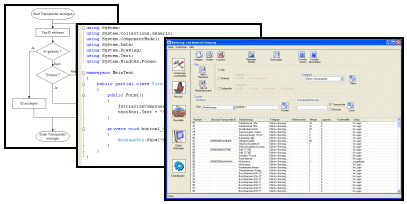 Many applications can already be implemented with existing hardware, there are applications on PC or on handheld devices, PDAs or even mobile phones. But all of these modern devices require software that they come to life and has the desired functionality.
Again, the development department of Assion Electronic GmbH can help you achieve your goals. Starting with the concept of software over the encoding to installation, commissioning and maintenance, we assist you and your project.
The wide range of our professional staff enables the programming of applications for Windows PCs, PDAs with Windows CE / Windows Mobile, handsets and mobile phones as well as for various microcontroller. In particular, applications in the logistics sector by RFID, barcodes, databases, interfaces to other systems and user interfaces are in the Electronic Assion an important pillar.